Click on Image
The Nebula is an ergonomically designed true bungalow for lovers of the Cyprus lifestyle. It has 3 bedrooms, one is en-suite, and 2 further bathrooms, kitchen and lounge. You walk out from the kitchen to a shaded terrace area which leads to the pool.
In order to maximise the delights of outdoor living, and the spectacular sea and mountain views, the Nebula has a large balcony area on the flat roof. The balcony is accessed by an external staircase. You can have lights and power points on the balcony for evening entertainment.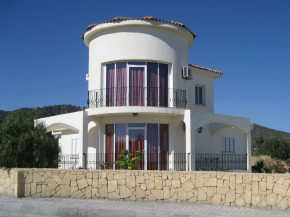 Click on Image
The Fantasy is characterised by an eye catching tower design, which is immediately recognisable from afar. This is a stylish property for adventurous and discerning customers. There is a circular lounge in an open plan area, linked to a large kitchen, and a circular master bedroom, with en-suite facilities.
There are 2, 3 and 4 bedroom variants of the Fantasy, each with the tower feature. Every Fantasy has the option of a flat roof balcony over the kitchen, which is accessed via the internal staircase